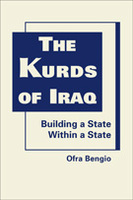 Ofra Bengio explores the dynamics of relations between the Kurds of Iraq and the Iraqi state from the inception of the Baath regime to the present. Bengio draws on a wealth of rich source materials to carefully trace the evolution of Kurdish national identity in Iraq. Dissecting the socioeconomic, political, and ideological transformations that Iraqi Kurdish society has undergone across some five decades, she focuses on the twin processes of nation building and state building. She also highlights the characteristics of the Kurdish movement in Iraq relative to Kurdish communities elsewhere in the region.
This narrative of the profound vicissitudes of Iraqi Kurdish fortunes illuminates not only the complexities of politics within Iraq today, but also the influence of Iraqi Kurdistan on the geostrategic map of the entire Middle East.
"The most up-to-date and detailed account of Iraqi Kurdish politics available in English."—Library Journal
"Without a doubt one of the best books to come along on the Kurds of Iraq….  Exceptional."—Charles G. McDonald, Florida International University
Ofra Bengio is lecturer in the Department of Middle East Studies at Tel Aviv University and senior research fellow at the university's Dayan Center for Middle Eastern and African Studies. Her previous publications in English include Saddam's World: Political Discourse in Iraq and the coedited Minorities and the State in the Arab World.
Click here to read the books introduction
Contents
The Evolution of Kurdish Nationalism.
THE KURDS AND THE IRAQI STATE, 1968-1980.
The Long Road to Kurdish Autonomy.
Paved with Good Intentions.
Unholy Alliances.
Deteriorating Relationships.
Marginalizing the Kurds.
An Imposed Autonomy.
A Time for War.
Interregnum.
CAUGHT IN THE CROSSFIRE, 1980-1998.
"One War Begets Another": The Iran-Iraq War.
Rising from the Ashes.
The Birth Pangs of Kurdish Self-Rule.
Uncivil War in Kurdistan.
A KURDISH ENTITY IN THE MAKING, 1998-2010.
The Foreign Relations Imbroglio.
From Victims to Victors.
The Great Leap Forward in Post-Saddam Iraq.
CONCLUSION.
"No Friends but the Mountains" Reconsidered